MOVIE MONDAY
The Good, The Bad, and The Ugly - Directed by Sergio Leone
——————————————————————-
Earlier I was watching the always appropriate No Reservations, which, to no one's surprise, finds Anthony Bourdain swearing, drinking, eating, cooking, tromping and stomping in the deserts of California with fellow badass Josh Homme (Queens of the Stone Age, Eagles of Death Metal).  All that dry, dusty earth being turned up by boot spurs and obstacle-free desert wind made me miss the time Mike and I spent writing songs in Joshua Tree like hell.  Almost to the point of me sticking my head in the oven on 200 just to feel the arid swelter entomb me again, though I figure the safer route would be to feature a western.
The Italians did a damn good thing here.  Far and away my favorite western film ever, The Good, The Bad and The Ugly really needs no introduction.  Most everyone has seen it or if not, heard of it, and for good reason.  It has been heralded by film makers for years, style and grit borrowed but never quite replicated.  Quentin Tarantino cites it as his favorite movie EVER.  After seeing it, I can see a lot of the spaghetti western influence in his work, but that is another conversation for another night.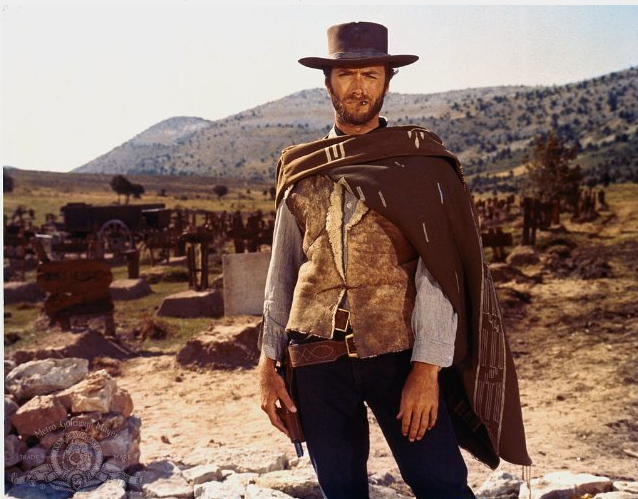 Clint Eastwood, one of the most respected directors/actors alive, turns in a perfect performance as "Blondie", bolstering wit, grit, bravery and stubbornness as if the attributes coated his core.  Clearly this character became iconic for Eastwood, as he revisited dozens of versions of it throughout his career.  But believe me, if you have 3 and half hours and a penchant for the rude and the raw, give this one a shot in the dark.
———————————-
You know how I feel about this, but I'm curious…
Westerns: yay or nay?